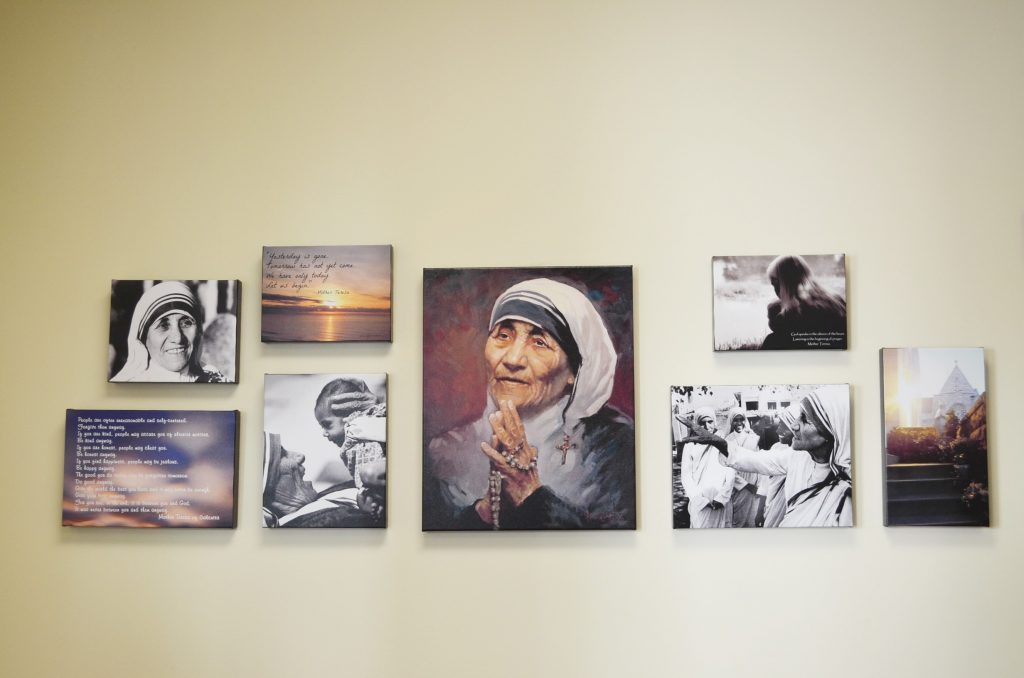 Agnes Bojaxhiu, the girl who was to become Mother Teresa, was born on August 26, 1910, to an Albanian family in Spokje, Macedonia. Even as a child, young Agnes heard God's call. She longed to spread God's love to people around the world as a missionary, and, from a very young age she planned to follow the call of Christ and become a religious sister. When she was eighteen years old, she joined the Sisters of Loreto and moved to Ireland to begin her religious training. In 1929, Agnes moved to India to begin her work teaching children and sharing the Good News, and, in 1931, she took her initial vows as a nun. It was at this time that she chose the name "Teresa;" she was so inspired by the life and works of St. Theresa the Little Flower that she wanted to carry that name with her as a reminder of God's call to do His good works.
For the next eighteen years, Sister Teresa taught at St. Mary's High School in Calcutta, but the suffering and poverty she saw outside the convent walls made a deep impression on her. She received a call from God to leave the convent and "help the poor while living among them." In 1948, Teresa left the convent of Loreto and went out into the streets of the city, determined to carry out God's will. Although she struggled to find supplies, housing, and even food, Teresa did not give up; she knew that God was with her, and she relied on him for strength. She was soon joined by volunteers who wanted to help do God's work, and together they were able to start an open-air school for the poorest children in Calcutta.
In 1950, Teresa received permission from the Vatican to become the Mother Superior of her own order, which she called "The Missionaries of Charity." Mother Teresa wrote that the work of her new order was to care for "the hungry, the naked, the homeless, the crippled, the blind, the lepers, all those who feel unwanted, unloved, uncared for throughout society." The order had only thirteen members at first, but, by 1997, The Missionaries of Charity had over 4,000 sisters and an organization for religious brothers and priests. The Missionaries of Charity run schools, group homes, hospice centers, and children's homes, helping to alleviate the pain of everything from poverty to leprosy to AIDS. In 1979, Mother Teresa received the Nobel Peace Prize for her work to help the poor and sick, and she asked that the prize money be donated to the poor in India.
Today, the legacy of Blessed Mother Teresa of Calcutta lives on in the work of the Missionaries of Charity, which has become an international religious organization devoted to helping the poor and sick just as Mother Teresa did. Catholics and others all over the world honor her for her courage, caring, and devotion to carrying out God's plans on earth. Mother Teresa's love for children and her desire to help them towards a better future is inspiring to people around the world, and we at Blessed Mother Teresa of Calcutta Catholic School are blessed to carry on her legacy of love and education.