Buy Your Tickets Now!
Get ready for a great night of dinner, dancing, drinking and giving! We have such a wonderful evening planned for you so buy your tickets now. Read further to find out everything we have in store for you!
5:00-6:00pm VIP Cocktail Hour
This cocktail hour is for VIP ticket holders as well as Gala sponsors.
6:00-10:00pm Silent auction bidding throughout.
Skim your phones and stay current with the best silent auction items we've ever had! We are keeping it open even longer to make sure you have time to put those last second bids in for your favorite items.
6:00 – 7:00pm Mix and Mingle
Arrive early and spend some time looking over the amazing location and our great decorations while sipping on one of Havana's best drinks.
7:00-8:30 Dinner with Friends
We have some amazing dishes to serve you this year. Sit and relax with friends and family while enjoying the feast. Save room for dessert.
8:30-9:30pm Live Auction In The Lights
Get out your pocket books and be ready to get intense with our biggest live auction items yet! We can't wait for you to see what we have in store for you this year.
9:30-11:00pm Dance It Up!
Get off your bottoms and dance to our fabulous entertainment. Enjoy the Latin flair and salsa the night away.
11:00pm
Event Concludes
ATTIRE: Vintage Havana Dress – Trendy tropical cocktail dress, guayabera and fedora!
For any questions on tickets, sponsorships or auction donations please contact the Gala Co-Chairs Vanessa Herrera 813-451-7909 vpherrera3@gmail.com or Yvette Urquhart 727-458-4714 yurquhart2@gmail.com
---
Enter the Jewelry Pull for some amazing pieces
courtesy of
Agape Diamonds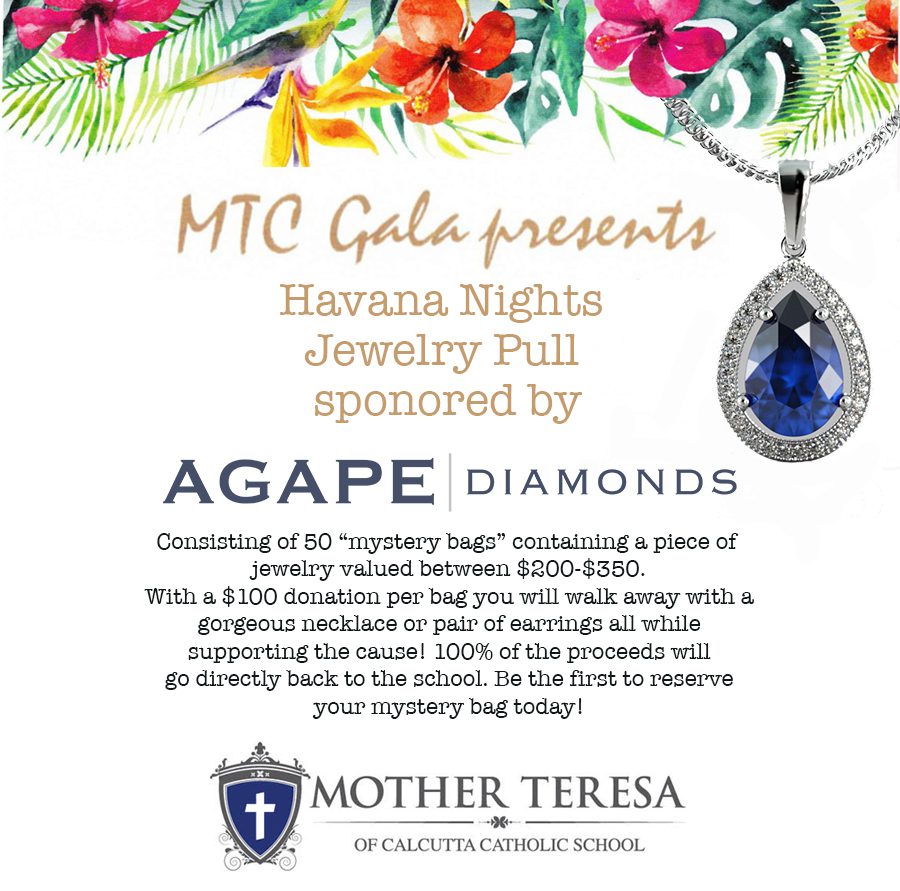 ---
Get ready for some fun with our Heads/Tails Game!